Rural Audiology Services Success Stories


We are blessed to have so many satisfied patients; read on for just a few of the testimonial letters we have received.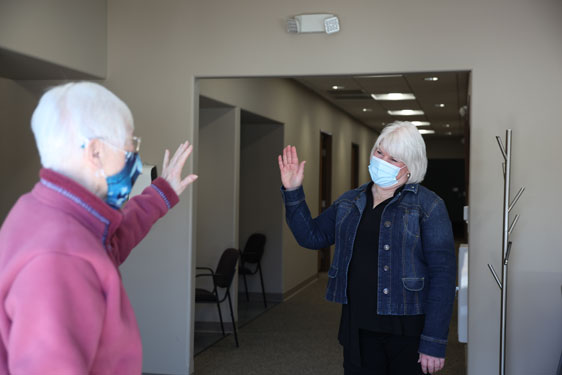 "Dear Becky, I wanted to tell you that meeting you at your hearing center was one of the best decisions I made in my life! I suffered with hearing loss as many people do my years. I knew I could not hear people, birds, crickets, music, television, important meetings at work and most of all the voices of my family. Sure, I knew that I needed hearing aids as my family constantly repeated instructions that I should have heard the first time. My hearing loss had become so bad that I finally made the decision to make an appointment with you to test my hearing. I had heard many good things about your clinic and knew your previous owner from our church.
You were very cordial and explained to me that if needed, I could try hearing aids for two weeks, risk and cost free. You tested my hearing that (to my surprise) was correctable with hearing aids. You reported to me that I had a loss of hearing in the higher frequencies. This came as no surprise; however, what I did not realize was that my hearing problem was so easily correctable with a new state-of-the-art Signia hearing aids. A short time later, I returned to your clinic to try out my new hearing aids. I was so surprised to find that from the first minute I wore them, the new sounds that I began to hear again. Your patience and persistence with getting ear molds comfortable was greatly appreciated by this guy with very sensitive ears!
Now, I can hear song birds (man, they're loud!), crickets, friends, meetings, and most importantly, the voices of my family members. So much stress has been removed by not having to straining to hear. I'm really sorry I did not come to you sooner. That was a mistake that I hope others like me will not make. You helped me to rediscover a world of sound I had forgotten was all around me.
Finally, your service is outstanding in maintaining these hearing aids to the standard of first-day perfection and I appreciate the personal time you have spent with me to explain how this remarkable state of the art device functions. Your personal never-ending smiles and care during each of the visits is a very special part of the experience that is so rare today.
Becky, I encourage you to share this letter with anyone having hearing impairment by posting it on your website.
Thank you so much for giving me back my hearing!"
- Mike H.
"Thank you so much for your professional services for my hearing loss. It is so good to hear well again. I am considering adding the remote device for specific situations, such as telephone conversations and theater audience occasions. My Siemens hearing aids have a special dome for swimming and they have really improved my quality of life. In water aerobics class, I can clearly hear directions from the instructor and derive full benefits from the class. I can also enjoy kayaking and paddle my canoe on local lakes without worry about damage to my hearing aids. I hope that others will have their hearing checked because hearing loss can easily sneak up and separate you from the world around you."
- Lynda P.
"I have been very pleased with the professional and cordial service I have received at Rural Audiology Services (RAS) since purchasing my Starkey hearing aids this past year. The service that both Cari and Becky have provided to me did not end at purchase time! This is a long-term relationship in which RAS ensures that I am properly and fully utilizing the capability of these amazing devices. From the initial hearing test – to the determination of which hearing aid I need – to optimizing and tuning these hearing aids for my hearing loss – to the ongoing service – I highly recommend the services of Rural Audiology Services to anyone with hearing loss. Do not delay in getting a consultation with Cari or Becky – it can be life changing."
- Denny O.
"I have recently received the pleasure of being able to hear! We tried the CROS style, but when I wasn't satisfied with them, Becky set me up with a loaner of a different type so that I could hear out of my right ear for the first time in around 20 years! After a couple trial weeks, I got permanent ones! I am very happy with them and how Becky and Cari worked with me to give me hearing again! Very friendly and thorough service! Thank you!"
- Nickie W.
"My husband Steve and I have been so honored to work with the entire staff at Rural Audiology. Steve got his first pair of hearing aids from the practice years ago. As I started to notice the decline in my own level of hearing, I knew I could rest assured Rural Audiology would treat me well. I chose Starkey aids because they had everything I needed to recover some of those conversations I was sorely missing. I was so very pleased when I got them that I encouraged Steve to go back to Rural Audiology and update his own aids. The team was offering a great special at the time, and he picked a top-of-the-line pair that could even notify me if he fell. I was jealous of them, and ended up upgrading my aids to the same model! We have both noticed a marked improvement in our understanding of conversation with others. We've also had an added benefit of listening to music with our aids. As luck would have it, Steve lost one aid when he removed his cap at a restaurant. I was able to use the 'find my hearing aids' app to pinpoint the location of the aid (albeit at 2 AM!). Rural Audiology has stood behind their product for us as well, fixing Steve's aid when our puppy got his chops on it...and then again when the puppy decided to completely destroy one of my aids. We completely recommend Rural Audiology for their knowledge, wonderful products and ease of scheduling for any and every issue. To boot, the entire staff is as friendly as can be."
- Steve and Jill B.
"This is my personal letter of recommendation for the work of Becky Franz and Cari Kramer with Rural Audiology. The devotion they gave me towards my new hearing aids was rather remarkable. After wearing analog hearing aids my entire life, I made a big change to digital hearing aids and haven't looked back. At first, there were a lot of kinks to work out and the differences were vast. Cari Kramer did and excellent job of explaining what to expect first had when I first tried on the digital hearing aids. Frequent visits were scheduled to work out some kinks, and she gave sound advice after every appointment. Since that time, I haven't had issues with my hearing aids and have been thoroughly impressed. Both the hearing aids themselves and the service provided were top notch with a high level of satisfaction. I hereby recommend anybody looking for hearing aids to seek the services of Rural Audiology."
- Jessie B.
"From the initial auditory exam, I felt informed about the reasons for (and the extent of) my hearing loss and what was available to correct it. Rural Audiology Services was very professional in every way. They are sincerely interested in finding the best product for their clients and in making sure one can understand how it works and how to use it. Their "service after the sale" is excellent too, they are always available to answer questions.
I would highly recommend them for anyone who has discovered hearing loss and wants to do something about it."
- Jeff O.
"I am writing this letter to let Rural Audiology Services know how I feel about my experience with everybody who works there. Ever since I started to experience hearing loss they have worked hard to improve my quality of life. 'Life-changing' best describes what hearing aids have done for me! I look forward to stopping in and visiting, whether it be for a hearing aid adjustment or picking up new batteries. I would highly recommend Rural Audiology Services to everyone who wants to have a better understanding of hearing loss and what can be done to improve your quality of life."
- Lon S.
"Rural Audiology has been providing quality, professional, and friendly hearing services for us for more than 15 years. Becky, Cari and staff have always found time for us whether for a checkup, adjustment, or new hearing aids. We highly recommend them for any hearing related issues."
- Tom and Gingie.
"I have been with Rural Audiology for many years. They have been very helpful with my hearing needs. The staff is very friendly. Becky is very caring and thorough. She works with you to get the best hearing aids for you. She is very friendly and caring."
- Sandy Y.
"This a letter of recommendation for RAS. As I grew older, I noticed hearing loss, but was reluctant to do something about it. During a regular visit with my family Dr, he recommended going to RAS. After meeting with Cari, I had a hearing test that revealed my areas of hearing loss. Cari recommended hearing aids that were programmable for me and have rechargeable batteries. What an improvement in hearing. Cari patiently answered all my questions. I have regular follow up visits with RAS. Cari, Becky and staff are very pleasant to work with. If you have hearing problems, consider going to RAS."
- Gary G.