Our Staff
Just contact us or schedule an appointment to get help from our experts
Becky L. Franz
M.S. CCC-A Clinical Audiologist
Becky L. Franz
Clinical Audiologist
Becky grew up in Stevens Point, Wisconsin graduating from Pacelli Catholic High School. She attended UW Stevens Point, majoring in Communicative Disorders, earning her Bachelor of Science Degree in 1994. She then earned her Master's Degree in Audiology in 1996.
Growing up with a cousin who was profoundly deaf made Becky curious about hearing loss. It wasn't until taking an undergraduate course in audiology that she knew exactly what she would do with that interest. Dr. Gary Glascoe, the former owner of Rural Audiology Services was so enthusiastic about what he was teaching and the work he was doing with his patients that Becky couldn't help but think she wanted to be just like him!
"I thank them all for trusting me with their hearing health needs," she says. "I thank them for the loyalty over the years and look forward to serving them for many more."
After completing graduate school, Becky accepted a position as a clinical audiologist at an Ear Nose and Throat practice in Wausau, Wisconsin. She worked there for three years and gained knowledge on testing and on fitting hearing aids. She then accepted an offer to work at UW Stevens Point as a clinical supervisor. There, she worked with graduate students guiding them through clinical experiences.
Becky was also given the opportunity to teach a couple of undergraduate courses in audiology and hoped to inspire students just like Dr. Glascoe had inspired her. When she was there, she invited Dr. Glascoe, whom was then retired from teaching, to come in as a guest speaker at one of her classes. At the time, he was still seeing patients in Waupaca. It was then that she expressed interest to him in purchasing his private practice in Waupaca. Little did she know that just a few months later that is exactly what would happen.
Becky and her husband, Andy officially purchased Rural Audiology Services from Chris Glascoe on September 21, 2001, following Gary's untimely death.
Becky is a member of the American Speech-Language-Hearing Association (ASHA), Wisconsin Speech-Language-Hearing Association (WSHA), American Academy of Audiology (AAA), the Wisconsin Hearing Alliance and is licensed to practice Audiology in the State of Wisconsin. She is also a supporter of the Hearing Loss Association of America, Fox Valley Chapter, the Better Business Bureau, and the Waupaca Area Chamber of Commerce.
Becky lives in Plover with her husband, Andy, their three children Bethany, Sam, and Victoria along with their dogs Snoop and Tango. When she is not seeing patients, her family and volunteer work keep her busy. Becky is an active member of St. Bronislava Cathollic Church in Plover. She is a member of the Pastoral Council and also serves in other various ministries. Becky has taken four mission trips to Lurin, Peru along with her two older children. She serves as a board member on the Waupaca Pregnancy Information Center and likes to help with other miscellaneous service projects.

Becky received "Outstanding Practitioner" from UWSP in 2004.
The business has been such a blessing to Becky. She feels lucky to have met so many wonderful patients over the years.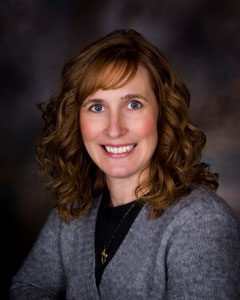 Dr. Cari J. Kramer
Clinical Audiologist
Dr. Cari J. Kramer
Clinical Audiologist
Dr. Cari Kramer earned her Bachelor of Science degree in Communicative Disorder and Masters of Science degree in Audiology from the University of Wisconsin-Stevens Point. She obtained her Doctor of Audiology degree from Salus University School of Audiology in Pennsylvania. She is a member of the American Speech Language Hearing Association (ASHA) and Wisconsin Speech Language Hearing Association (WSHA).